Publish a comic on amilova.com
Why publish your comic on Amilova?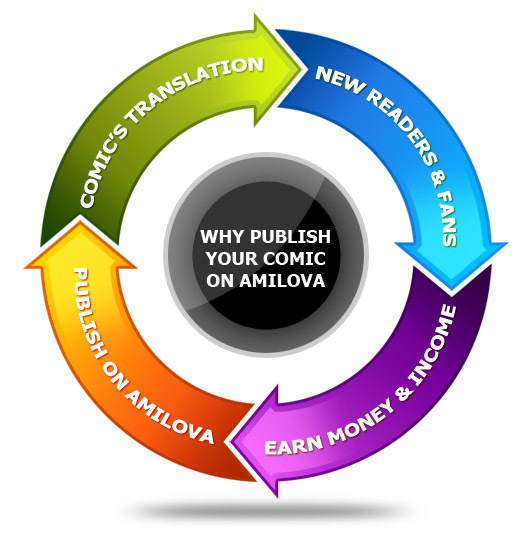 How to publish a comic on Amilova?
First off, you will need to have an Artist Account. To obtain it, your comic should be validated by our admins. So please follow these steps:
1.
Present your works
on the message board.
2. Contact the administrator
TroyB
by private message. Once your comic is validated (or not), he will get back to you. Please contact the admin only after publishing your portfolio on the message board, or if you have a link to another online portfolio.
Please note that we receive many submissions every day, but since we have to keep high standards of quality, not everyone can publish their comic on Amilova. Don't hesitate to contact us though! New talented artists are always welcome on amiova.com!
3. Once your comic is validated you can ask the admin to integrate the Premium collection if your comic is meeting quality and quantity expectations. Contact directly TroyB for more informations.
Advantages of being on Amilova:
You will have access to an online space with the same management options as the artists from the Amilova Premium :
Display optimized for different formats: HD screens, Ipad, Smartphone, ...
Advanced customization of your personal space
Interface for Collaborative Translation
Your own blog
Personal URL address for your comic on amilova.com, e.g. YourComic.amilova.com


Your comic will be read by thousands of our readers
You will be published alongside many talented artists
You will receive feedback from professional comic artists and fans
If our translators like your work they will take it upon themselves to translate it into their respective languages: French, Spanish, Portuguese, etc...
You could eventually become a part of the Amilova Premium and be paid for your work.
The Platform:
As a publishing platform, Amilova is the place to be for you. You can publish your comics or to have a comic strip and to use the site as your portefolio. With thousands of members, it's easier for you to find your public, to find translators and to be part of the Amilova Premium for the Pro Authors.
By being on Amilova.com, you'll have a access to all our powerful tools to manage our comics and your community with a comment dashboard to moderate and reply to your fans.