What is affiliation?
It's simple, allifiliation is the act of promoting Amilova. Each person who registers with one your link, will become your godson and will be related to you. Thus, if your godson buy anything on Amilova (a premium membership, Golds), each time you'll earn 25% of the amount spent in gold.
For you convenience, there are 17 affiliate tools available on this page. You can use basic tools as banners or direct link but you've also very powerful tools as displaying on your site the most popular page of a comics or even the last page published for this comics ! (and it's dinamically changing each time a new page is available)
To use these tools is very easy : choose the comics you want to promote, select its parameters and copy/paste the HTML or BB Code link on your favorite site or forum.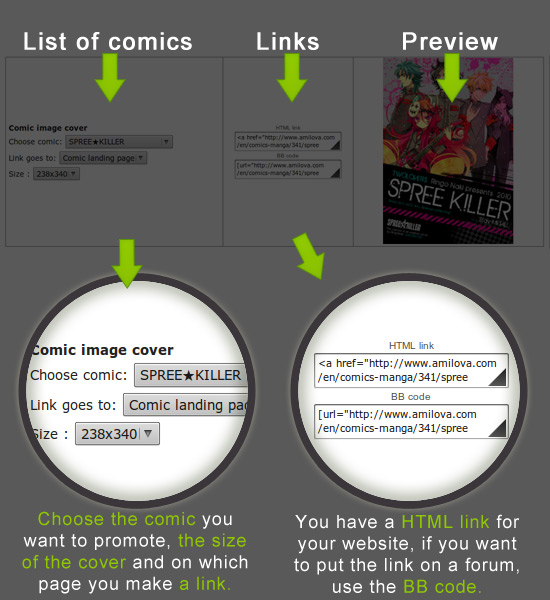 You can't find a comics in the list?
No problem! Affiliate tools are only available for comics you've added as favorite ! So if you want to promote a specific comics, just add it in your favorite and it will appear in the affiliate tools!
No time to check the new comics on Amilova ? Here a remind of the must read comics of the week !
Invincible (We Don't Die)
Outlaw and wanted criminal Vincent Silvera awakens to find himself in Limbo. His life has just been cut short, but by whom? He certainly has a long list of enemies...
When faced with his moment of judgement, he opts to delay it by making a deal with a reaper called Lucifer. However, every contract has fine print, and Vincent soon discovers that his troubles are only just beginning…
This comics by Pink_Marionette is Available on Amilova, click here to read !
Pantheon
A futuristic world brought to ruin by Artificial Intelligence machines. The leader of the machines is a being called Prometheus. His heart is a relic of the past that houses the soul of the Titan King Chronos.
Enjoy on Amilova this comics made by Sid1ous : click here to read it !
Memories
«Memories from my childhood, sometimes sad, sometimes strange, sometimes funny.
Enjoy on Amilova this comics made by Sid1ous : click here to read it !
Have a nice week