La vrai vie des pingouins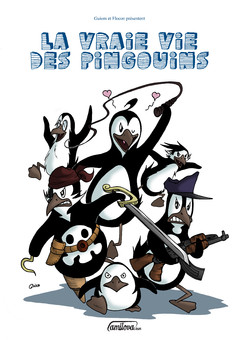 Un groupe de pingouins se prépare à partir à la chasse à l'orque. Malheureusement, rien ce se passera comme prévu lors de cette journée ...

La vraie vie des pingouins, c'est le fruit d'une collaboration entre Guiom et son correspondant du grand nord : Flocon le pingouin.
A eux deux, ils ont décidé de dévoiler la véritable vie des pingouins.
Original Language : Français
Тип : Комиксы - One-Shot
(Комикс (слева направо))
eBook shop Buy, download, collect the eBook version
You can translate this comic via our online interface.
Translating helps the artist to be more visible, and shows your interest and gratitude.
Dedicated translators will be rewarded with Golds.