Pussy Quest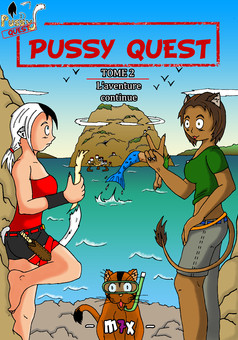 Rôji, un garçon qui vient d'avoir son premier appartement, décide d'adopter un chat pour lui tenir compagnie. C'est une chatte peu ordinaire qu'il finit par choisir...

Mon but premier avec Pussy Quest est de vous faire vivre une grande aventure en suivant nos deux héros qui se débrouillent tant bien que mal pour découvrir leur origine.
Mais ce n'est pas seulement une BD d'aventure, l'histoire se veut drôle avec l'humour bien particulier de nos deux semi félins.
En espérant que vous allez bien rire de leurs blagues, je vous souhaite une bonne lecture !!
Original Language : Français
Тип : манга - Saga
(Комикс (слева направо))
eBook shop Buy, download, collect the eBook version
You can translate this comic via our online interface.
Translating helps the artist to be more visible, and shows your interest and gratitude.
Dedicated translators will be rewarded with Golds.