U.N.A. Frontiers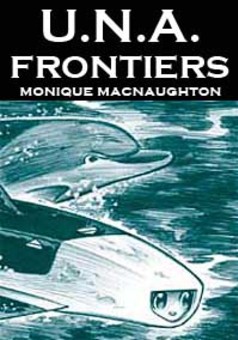 In this story, civilization was considerably devastated but not quite plunged into a new dark age. However, society is stuck with 19th-century conditions because the easily accessible resources that enabled the mechanization of the early 20th century are pretty much gone. Nevertheless, small, hidden hi-tech enclaves cling to life, including an undersea habitat in the Caribbean which finds itself in deep trouble when an aggressive and expansionist South American empire comes knocking. The majority of its population retreat to the deep bunkers and shut down the upper complex to make things difficult for the attackers.

Two escapees, a teenage boy and an aquatic AI, make their separate ways to the North American mainland where each must survive on their own and seek help for their cause in a world gone back to the horse and buggy. Another AI, a 4,000-year-old alien probe, joins the fight, having kenned to the presence of another self-aware robot on the planet (which was his homeworld's criterion for establishing contact).
Original Language : English
タイプ : 漫画
(欧米のマンガ(左から右へ読む))
eBook shop Buy, download, collect the eBook version
You can translate this comic via our online interface.
Translating helps the artist to be more visible, and shows your interest and gratitude.
Dedicated translators will be rewarded with Golds.